Lisa Hanawalt Solo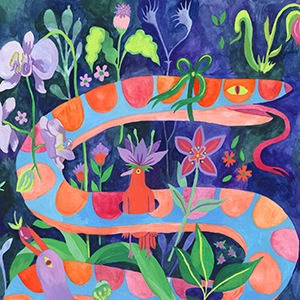 Lisa Hanawalt Solo
June 13, 2020 - June 28, 2020
15 days away

view pieces
add to calendar (.ics)
share this event
**NOTE: Due to the ongoing situation with covid - 19, the opening reception for this show will be entirely online. The show will go live online at 11:59 PM on June 13th.**
Gallery Nucleus is proud to welcome Lisa Hanawalt for a solo exhibition of her personal paintings and drawings. Known for her work on Netflix shows
Bojack Horseman
and
Tuca & Bertie,
this show will feature new paintings and drawings, and even a dash of Tuca & Bertie!
About Lisa Hanawalt:


Lisa is the creator and showrunner of Tuca & Bertie, an adult animated series for Netflix. She's the production designer/producer of the Netflix series, BoJack Horseman. She has written & illustrated three books published by Drawn & Quarterly:
My Dirty Dumb Eyes
, 2013,
Hot Dog Taste Test
, 2016, and
Coyote Doggirl
, 2018. She grew up in Palo Alto, California, and graduated from UCLA in 2006. She co-hosts a podcast called
with comedian Emily Heller, on the Maximum Fun network. She lives in Los Angeles.


Details about the online reception:




Live Q & A:

On June 13th at 6:00 PM, Lisa will be hosting a live Q & A for fans via zoom. The first 200 people to purchase either one of Lisa's books or prints will be contacted via email letting them know they are invited to the Q & A on June 10th, and will be sent an email with the link for the Q & A an hour before it begins. The Q & A will be recorded and relased later. All books and prints ordered within this time frame will be signed by Lisa and fulfilled her schedule permitting.

Exclusive Online Preview
---
Event Exclusives
---
---
---
---
---